あの娘が海辺で踊ってる
1 Sep.(Sun.)12:50/Conference Room(L-code:40911)
Dir.YAMATO Yuuki is scheduled to show up.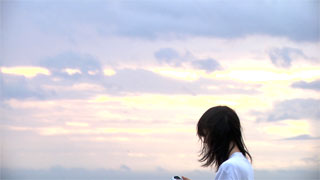 Japan/2011/50min.
Director, Cinematographer, Editor:YAMATO Yuuki
Cast:KATO Tomoko, UENO Sumire
Distribution Company in Japan:SPOTTED PRODUCTIONS INC.
The Jury's Special Award at Tokyo Students' Film Festival in 2012
The story features two high school girls and two high school boys in Atami during the summer. Maiko is self-conscious beautiful girl who yearns for idol girl group AKB. Sugawara, whose hobby is Japanese dancing, is only one friend of Maiko's. Maiko and Sugawara meet the shamisen (3 stringed banjo) club members, Sasaya and Furuno. They interact with each other and enhance their sparkle.
(Shown together with)
Her Res - 3 cases in which you will find me in 3 minutes (12min.)
WE ARE NOT BAND! THE MOVIE (20min.)