「潮風の村から」-ある女性医師の軌跡-
6 Sep.(Fri.)10:00/Conference Room(L-code:40927)
8 Sep.(Sun.)14:00/Shitara Town
Aichi Premiere/ Dir.Yamagami Chieko is scheduled to show up.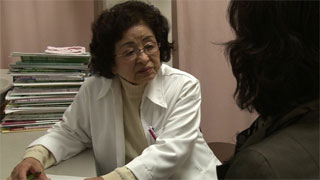 Japan/2013/84min.
Director:Yamagami Chieko
Cast:Kitayama Ikuko
86 year-old Ikuko Kitayama practices obstetrics and gynecology in Tahara in Atsumi peninsula and is now actively working. Kitayama surprised the status of women in rural communities when she started community-based health care with her husband 64 years ago. Since then, she has continued providing sex education in hope of society which women can care their bodies.