タカハマ物語
31 Aug.(Sat.)14:10/Conference Room(L-code:40905)
Dir.Midori Ishimaru is scheduled to show up.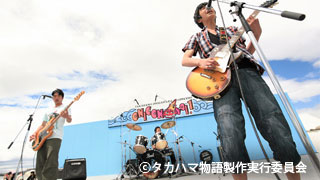 Japan/2012/104min.
Director:Midori Ishimaru
Supervisor:Yukihiko Tsutsumi
Cast:Koushi Hirano, Misaki Yamada, Citizens in Takahama city
This is a movie about citizens in Takahama-city. A group of junior-high school students, the leading characters, try to make drums from Oni-gawara (Japanese gargoyle roof tiles) and plan to hold a concert with the drums. There are various types of people, such as people who warmly watch and help, people who oppose, and people who confront the students. The movie depicts the first step of the town development of Takahama-city.