猫と電車-ねことでんしゃ-
31 Aug.(Sat.)13:00/Nishio City
1 Sep.(Sun.)10:00/Conference Room(L-code:40910)
Aichi Premiere/English subtitles/Dir.Kozai Shiho, Ms.Shinohara Tomoe, Ms.Fujima Miho are scheduled to show up.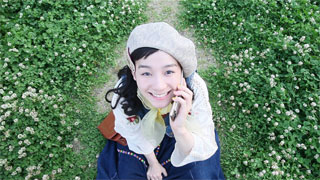 Japan/2012/91min.
Director:Kozai Shiho
Cast:Shinohara Tomoe, Fujima Miho
Distribution Company in Japan:NORA NEKO FILM
Shizuku with a great imagination, is a faraway would-be creator of cartoon characters, now attaining the age of 29. Under adverse circumstances such as going homeless and being pickpocketed, she builds a castle from discarded cardboards in a park. Tomoe Shinohara, used to be an icon to teenager girls as "Shinoraa" for her flamboyant fashion sense and bubbly personality, plays lively a role of the woman surrounding with loving friends and the family.