Special screening/Distributor in Japan: CON-CAN Movie Festival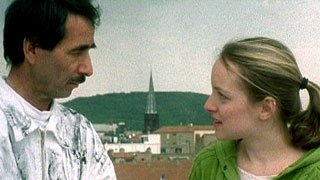 Directors: Cagla Zencirci, Guillaume Giovanetti
France=Turkey/26min./Drama
Cast: Ceyda Bakbasa, Ahatjan Ali
2009CON-CAN Movie Festival Grand prix
The girl from Turkey has come to France. She is homesick when she meets an older man, a Uighur from China. They speak the same language and the tie between them deepens. Yet another outstanding documentary form this directorial duo.
---
Director: Cagla Zencirci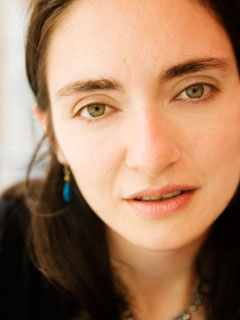 Director: Guillaume Giovanetti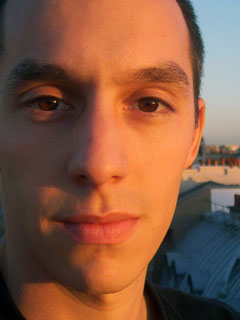 Cagla Zencirci (Ankara, 1976) and Guillaume Giovanetti (Lyon, 1978) direct several documentaries in Middle-East and Central Asia, among which "Recovering Bam", shot in Iran, awarded the Special Prize of the Jury in Ankara 2005 and purchased by Planete Channel.
They are then selected at 2 Direction Residences in South Italy. They direct in particular, under the guidance of Abbas Kiarostami, the documentary fiction "Carnegami", Special Prize of the Jury in Saint-Maur Festival (France, 2006), Prize of the Best Film in Noci (Italy, 2007), and screened in many Festivals in Europe, North America and Asia.
They afterwards have the opportunity to shoot the fiction documentary "shantyGARDENtown" in Turkey and Germany, which competes in the Berlinale 2007, in the "Berlin Today Award" Section and is awarded the Best Short Documentary in Barcelona (Spain, 2007). Afterwards it is broadcast on TVE, the Spanish National TV Channel. It is currently screened in all Europe.
They have just achieved their middle-length fiction "Ata" (shot in Super-16 mm with non-professional actors, and dealing with the unexpected meeting in France of a young Turkish girl and an old political refugee from China who turns out to have a Turkish-like mother language). The film has been selected at the 30th Clermont-Ferrand International Film Festival, awarded the Prize of the Best French Short Film, the Public Prize, at the 30th Int'l Creteil Women Film Festival, and awarded the Prize of the Public at the Fuji Tous Courts Festival in Paris. It starts now its international carreer in Europe and the world.
Cagla Zencirci and Guillaume Giovanetti are now in preproduction of their first feature film, "You are my heart, you are my soul", a Road Movie through Pakistan.