La reine des pommes
3 Sep.(Tue.)18:30/Conference Room(L-code:40919)
Has not been released publicly in Japan.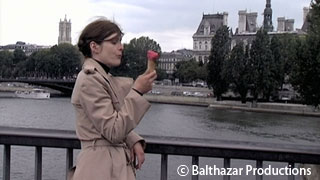 France/2009/82min.
Director:Valerie Donzelli
Cast:Valerie Donzelli, Jeremie Elkaim
Distribution Company in Japan:ONLY HEARTS CO., LTD.
Including some descriptions that do not suit the juvenile.
Adele got dumped by her beloved boyfriend and it makes her want to die. Rachel, her cousin, advises her what to do... Does Adele become happy? It's a love comedy which is the directorial debut of Valerie Donezelli. She also does the leading actress, the scenario and the music at the same time.