Almanya-Willkommen in Deutschland
31 Aug.(Sat.)11:00/Will Hall(L-code:40901)
2 Sep.(Mon.)18:30/Conference Room(L-code:40915)
Aichi Premiere/Dir.Yasemin Samdereli is scheduled to show up.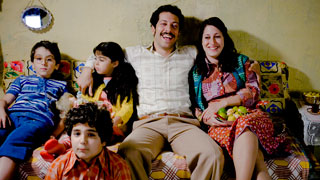 Germany/2011/101min.
Director:Yasemin Samdereli
Cast:Vedat Erincin, Lilay Huser
Distribution Company in Japan:Pandora Co.,Ltd.
The Silver prize for best film, The best screenplay award at German Film Academy 2011
Audience Award at Chicago International Film Festival 2011
In 1960s, Grandfather immigrated from Turkey to Germany, where he raised his family. Now he has a daughter and son and even his grandchildren. Therefore, he is a German completely. Then, he bought a land in Turkey and visited his homeland with all his family, however--------.The film show cross-cultural exchange comically through three generations. The script was written by sisters who also directed the film. They are second generation of Turkey and having been living in Germany.