Belle épine
3 Sep.(Tue.)15:50/Conference Room(L-code:40918)
Has not been released publicly in Japan.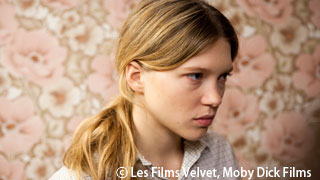 France/2010/80min.
Director:Rebecca Zlotowski
Cast:Lea Seydoux, Anais Demoustier
Distribution Company in Japan:ONLY HEARTS CO., LTD.
Showed at the Critiques' Week at Cannes Film Festival 2010
Won the Prix Louis-Delluc for first film 2010
The heroine is a seventeen years old girl who becomes isolated because of her mother's death. Lea Seydoux is a cynosure budding actress who shows an overwhelming presence. She performs the heroine who can't get along with people around her and continues drifting. She leaves a deep impression. A distinct personality throughout the movie creates its charming points.