2 Sep. Wed. 13:00 Conference Room
1
Hide & Seek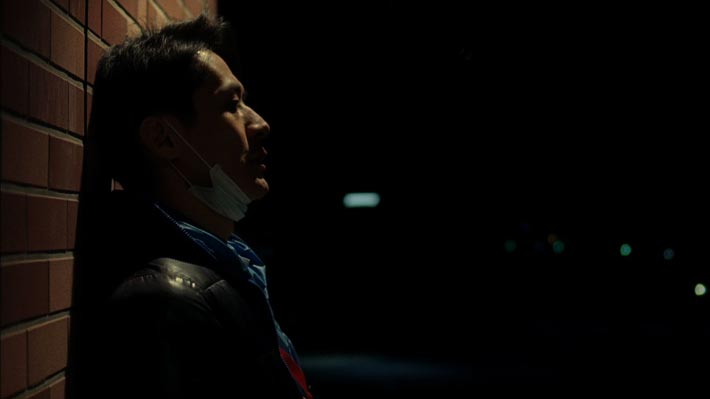 Japan, Singapore, France/2015/22min
Director: Kimie Tanaka
Cast: Masaki Miura, Kuniaki Nakamura
2
Be Mine

Korea/2014/22min
Director: Hwang Chungran
Cast: Kim Minchae, Kim Junsik
3
Answer

Japan/2014/16min
Director: SUSIE
Cast: Eiji Leon Lee, Mayu Kokubo
There is no cure for the type I diabetes. With the incidence in Japan extremely low at one or two in every 100,000 people, the disease is hardly known. Quite a few patients do not want to come out with the fact that they are afflicted because they are afraid of the societal prejudice. Based on a real story, the film tells of a young man who first had symptoms of this illness when he was 27. It was a difficult time, but, with help from his bandmates, he gradually learns to enjoy his drums again, and, in doing so, to accept his illness and live with it.
4
Fox Fears

Japan/2015/8min
Director: Miyo Sato
Cast: Rihito Morio, Mari Ikegaya
On the night of the village festival, little Bunroku goes out to play with his friends and learns an old belief about foxes in a small-time sweet shop on the way. The small incident leaves its subtle marks on his mind. He then learns the meaning of love and of goodbyes as his mother tells him a fairytale. The film is based on "Kitsune (Foxes)," one of the later stories by Nankichi Niimi, celebrated writer for children from Aichi Prefecture.
5
Ctpax(Fear)

Russia/2014/30min
Director: Elena Sayko
Cast: Maria Oleinikova, Konstantin Yudaev
Despite being married to a wealthy husband, Ala is having an affair. One day, a woman who claims to be her lover's girlfriend approaches her. She knows about Ala's extramarital affair and starts blackmailing her. Ala's husband asks to know what is troubling her, but she cannot reveal her secrets to him. The blackmailing escalates until the woman even turns up at Ala's door and she no longer has money to pay. Ala is alone in her mounting anxiety while her husband is increasingly concerned.
6
Laugh and get fat.

Japan/2014/30min
Director: Mai Sakai
Cast: Manami Hamada, Yoshiko Takahashi
Without a boyfriend and fulfilling work, Yumi is dissatisfied and bored with her own life. One day, an unexpected notice came. Yumi has long forgotten to smile or laugh heartily, but now she finds herself at Osu Entertainment Center, which is closed for renovation. There, true entertainers that they are, the comedians do their utmost to make Yumi laugh. The old center, now gone, is back with all its former glory on the screen.
7
Fireworks

Korea/2014/24min
Director: Ahlam Jang
Cast: Ha Jin, Ji Yeonu
Mijin, a divorced single mom of an 8-year-old boy, works as a piano teacher. She becomes acquainted with Jongsweok, who is 9 years her junior, on a chat site. The two get on well, but Mijin keeps from him the fact that she is a single mom. Mijin plans to spend her summer break with her son, going to see the fireworks together, but he leaves to visit with his father. Mijin then starts a chat with Jongseok. When he learns that Mijin has no plan for the summer, he asks her out. Feeling disconcerted by his sudden offer, Mijin plucks up her courage and accepts it.
8
KOHTARO IN SPACEWONDERLAND

Japan/2014/28min
Director: artegg-yumi
Cast: AKIRA, Yuri Minoura
In 2200, Kohtaro, age 7, from Planet Migot, and his nurse robot Pon-chan are traveling through space in their dolphin-shaped spaceship, stopping at stars to simply have fun. Their next stop is Planet Chocolate, which they soon find is now faced with a crisis. In the middle of this havoc, Kohtaro finds a new friend, and together they stand up to save Planet Chocolate. This exciting tale of fantasy, adventure, and growth tells you how you must embrace friendship.
9
Midsummer in Paris

Taiwan/2015/15min
Director: Kuei-Yin Chou
Cast: Vera SU, YiHsien WU
Trying in vain to forget her ex-girlfriend Jenny, Joe travels from Taipei to Paris. One day, a girl from her past shows up in a café in Paris. Her name is Min, and she is an old friend of Jenny. Min says that she is visiting Paris and that they have met before, but Joe cannot remember. Min says Jenny has asked her to bring Joe a birthday present. Min and Joe start seeing each other every day, walking around Paris together and talking about life and equality. There is a budding romance between them...
10
FRESH MINT

Japan/2015/30min
Director: Mayuka Yoshida
Cast: Kenji Nakano, Reina Sakamoto
Five years after the death of his wife, Shun, age 50, is still unable to accept it. His days are empty. He simply gets up in the morning and goes through the day mechanically. However, there is one thing he never fails to do; that is, he cleans the long lane near his house every day. Miyo, age 7, who has just moved into the neighborhood, becomes interested in Shun and what he does. Two troubled souls start to connect, and the changes begin to take shape in their respective minds.
Special Screenings
Reflection

USA/2014/23min
Director: Hazuki Aikawa
Cast: Leah Cogan, James Ciccarelle
Tara, a young divorcee, has been raising her son Alex by herself. She now finds herself increasingly perturbed by Alex, now 9, as he begins to show transvestite tendencies. The neighbors are unsympathetic, and Tara's parents suggest that he be taken to a shrink. With bullying at school and pressure from all quarters, Tara forbids Alex from cross-dressing. He reluctantly consents but continues to play with Tara's cosmetics when she is not around. When she finds out about it, she loses control and hits him.
Special Screenings
PLANET Σ

France/2014/12min
Director: Momoko Seto
On PLANET Σ, giant creatures are trapped inside the ice. Submarine eruptions warm the planet, and animals begin to stir. "PLANET Σ" is the third film in the PLANET series, following "PLANET A" and "PLANET Z."