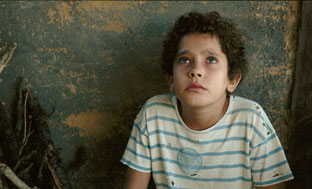 9 Sep.(Thu.)10:40/Conference Room
Aichi Premiere
The original title:Mutum
Brazil/2007/95min.
Director:Sandra Kogut
Cast:THIAGO DA SILVA MARIZ,OAO MIGUEL
Critics' Week and Directors'closing film of Canne Film Festival 2007
Thiago ,10 year-old , lives with his family in the rural town Mutum. How does the world of adults filled with betrays and violence strike the innocent boy Thiago as? Severe labour such as cattlemen and agricuture, adults' unreasonable aspect and Brazil's great nature is shown through children's eyes.