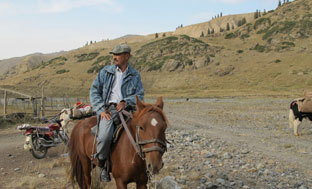 1 Sep.(Sat.)13:30/Yatomi City
2 Sep.(Sun.)13:00/Will Hall
3 Sep.(Mon.)18:30/Conference Room


Japan Premiere The director is scheduled to visit.
China/2011/88min.
Director:Sha Li Qiong
Cast:Payin ,Yan Xian
Hass ,the hero of this film and a shepherd in Xinjiang autonomous region, receives a notice recommending them to move out to a town due to water shortage. He reluctantly leaves the mountain and starts to cultivate fish as his childen need school education and his sick wife needs treatments. But he fails. What is in store for Hass's family at the mercy of violently changing Chinese society ?