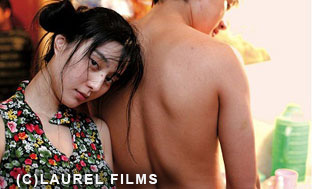 5 Sep.(Thr.)18:30/Conference Room


China/2007/109min.
Director:Yu Li
Cast:Bingbing Fan,Tony Leung Ka Fai
The film was offically submitted in Berlin International Film Festival 2009.
*Minors are recommended not to see some scenes in the film.
ファン・ビンビン演じる過激な性描写や中国格差社会の現実を描いていることから中国では上映禁止となった問題作。しかし海外では、金と欲望に翻弄される人間模様をリアルに描いて高評価、ベルリン国際映画祭にノミネートされた。
Because of the portrayal of violent sex performed by Bing Bing Fan and the reality of Chinese hierarchical society ,this contravesial film was banned to be shown in China. However outside China, its realistic depiction of how people act when driven by money and greed in the film received high praise and the film was nominated in Berlin International Film Festival.