Donation Report for the Great East Japan Earthquake
We would like to thank everyone for your participation in generous donation for the support of the victims of "The Great East Japan Earthquake".
Now, we are pleased to announce to you that today we have sent all the above monetary donation to Japanese Red Cross Society.
Donation in total 163,329 yen
Aichi International Women's Film Festival office
Audience Award Winners
AIWFF2011 Audience Award
LIVING THE SILENT SPRING / Director: Masako Sakata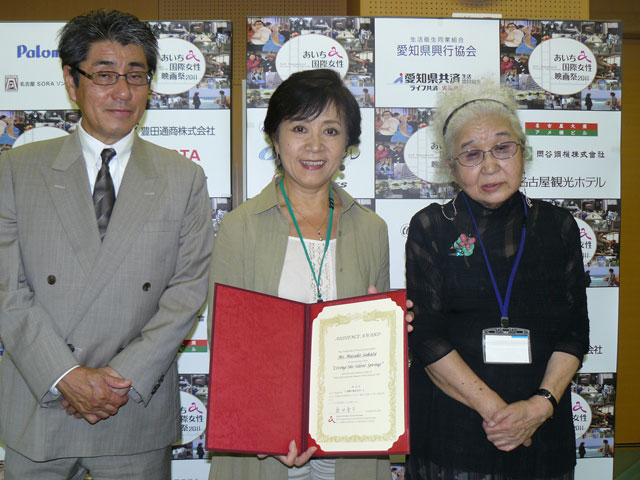 I feel blessed with all my heart and soul. Thank you very much for the wonderful award.
I started my filmmaking career quite recently. Being 55 years old, I was mourning the death of my husband. The sorrow let me make up my mind to investigate defoliants and make my first direction "Agent Orange-a personal requiem-".
"Living the Silent Spring" is my second film. This film was made by Vietnamese as well as American victims of defoliants appeared on the film rather than me. Because of telling us their stories, the film comes to life. Accordingly, I am really pleased that audience has chosen to award a prize to my film. I would like to inform everyone appeared on my film of this prize.
Many thanks for everything.
(写真は、坂田雅子監督(中央)愛知県興行協会 堀部俊仁 理事長(左)あいち国際女性映画祭 野上照代 運営委員(右))
The Aichi Cinema and Theater Association Award
THEMBA-A BOY CALLED HOPE / Director: Stefanie Sycholt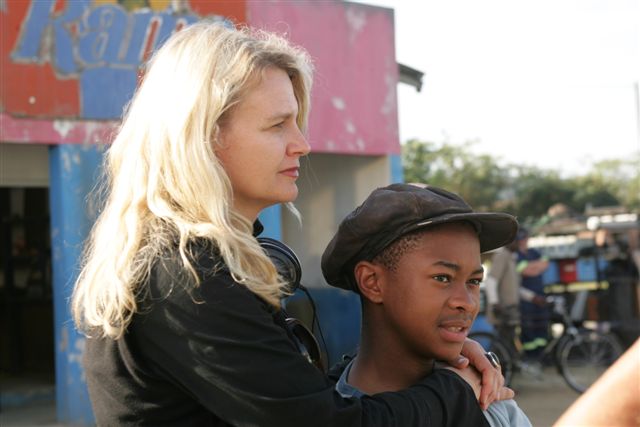 I am exceedingly delighted that audiences in Japan have chosen to award a prize to my film THEMBA: A BOY CALLED HOPE.
Japan is so far away from South Africa and at a time that people in your country are having to deal with so many issues after the catastrophic earthquakes earlier this year, it is a sign of your deep humanity to recognize the story THEMBA is telling. Despite focusing on the bleak issues of rape, HV/AIDS and child-headed households in South Africa, THEMBA is essentially a story of hope, of the fighting human spirit that triumphs in adversity or despite adversity; it's about holding on to your dream and winning out in the end.
I thank you for supporting this and am very sorry that the shoot of a new movie prevented me from being at your festival.
With warm wishes, Stefanie Sycholt