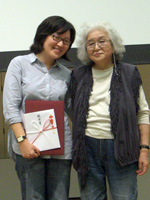 Kim Kyun-nee(left side)

Teruyo Teruyo

(Menber,Steering Committee)

Kim Kyun-nee (Producer)


Thank you very much for giving us this significant award. The winning of the Audience Award means that the audience love and enjoyed our film. "Forever the Moment" is the product of efforts of the director, actrors and many women. I would like to present this honor to Director Yim Soon-rye who devoted herself to the film, from writing scenario to filming, and wonderful actrors who never stopped acting, taking pain-killers in filming. Thank you very much.