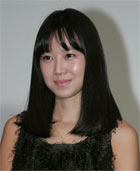 FILM "CRUSH AND BLUSH"
9/8(Wed.)14:30 Will Hall/Guest Talk
Born in Seoul in 1980. South Korean actress and model. She made her acting debut with "Memento Mori" (1999). Since then, she has starred in many films and TV dramas, and won several awards including the Best Actress award at Korean Film Awards in 2008 for her performance in "Crush and Blush" (2009) and the Top Ten Asian Actors at China Entertainment Television in 2010 for her performance in TV drama "Pasta".