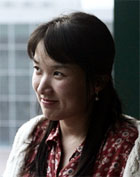 FILM "You Will Know"

9/8(Wed.)19:00 Conference Room/Guest Talk
Born in Seoul, Korea, 1977.
Graduated from Korean National University of arts.
She directed several short film including "Platform" and "You will Know". She worked as staff for "Forever the Moment" and "The Way to Travel With the Bull" directed by Yim soon-rye.